The Housing Center provides the most comprehensive listing of rental apartments in Oak Park, Illinois. We invite you to visit our office or call us today at 708.848.7150 to register for a listing of apartments. You can also contact us by email and get a guaranteed response at . We offer our clients the opportunity to interact with us via Skype and Facetime. Our Rental Guides will even provide you will real-time video tours of apartments you are interested in seeing.
From vintage apartments with beautiful woodwork and architectural flourishes to modern apartments, the Housing Center has the right listing for you. Whether you prefer a classic courtyard building or a house, we have rentals available from studios to 3-bedrooms and more.
Our services are unique because we get listings from owners throughout Oak Park, so we can provide you with potential rentals that meet your specific needs. When you get your listings through the Housing Center, you save yourself a huge amount of time and effort! We don't provide our listings online because meeting with you in person allows us to customize our services just for you.
Below are general rent ranges, intended to give you an idea of what the cost of living is in the Oak Park area. The actual price of rent depends on the time of year, which Oak Park apartments are listed at that time, and what utilities and amenities are included. We try to help everyone the best we can but the Housing Center is not an affordable housing provider. We provide listings that are at typical market rents for Oak Park apartments.
No appointment necessary! The process is easy: Simply walk in during business hours and meet with an advisor who will customize an apartment search to meet your needs. You can also call us to register for one of our listings. Just call us at 708.848.7150.
We specialize in finding apartments for renters relocating from another area.
Studio Example Photos
1-Bedroom Example Photos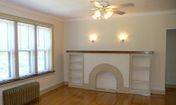 2+ Bedroom Example Photos
Photos by Michael D. Stewart