Your Apartment Search
The Oak Park Regional Housing Center provides the most comprehensive listing of rental apartments in Oak Park, Illinois. No appointment necessary!
To get started, please use our Online Client Registration Form. This will provide us with information about your ideal apartment, rent budget, living situation, and contact information.
Click the button below or use this link:
https://form.jotform.com/OPRHC/2022-client-registration-form
Client Registration Form
Once you have submitted your registration form, a Rental Advisor will contact you with apartment listings that match your needs.
If you are in the area, feel free to walk-in during business hours to meet with an advisor in-person and receive customized apartment listings.
You can also contact us by email and get a guaranteed response at .
We also offer qualified clients the opportunity to interact with us via Skype and Facetime.
When you get your listings through the Housing Center, you save yourself a huge amount of time and effort! Our services are unique because we get listings from owners throughout Oak Park. This way, we can provide you with apartments that meet your specific needs and you don't have to go through this process on your own. We don't provide our listings online because speaking with you one-on-one allows us to customize our services just for you.
Guided Apartment Tours
The Live in Oak Park program offers guided apartment tours for eligible registered renters considering apartments. Our Apartment Guides have years of expertise and a wealth of knowledge about the various neighborhoods of Oak Park to help you make informed decisions! Call or email us for more information.
Apartment Styles
With our apartment services, you can choose from vintage apartments with beautiful woodwork and architectural flourishes to modern apartments. Whether you prefer a classic courtyard building or a house, our Rental Advisors will help you achieve your housing dreams.
We have rentals available ranging from studios to 3-bedrooms and more.
Below are general rent ranges, intended to give you an idea of what the cost of living is in the Oak Park area. The actual price of rent depends on the time of year, which Oak Park apartments are listed at that time, and what utilities and amenities are included. We try to help everyone the best we can but the Housing Center is not an affordable housing provider. We provide listings that are at typical market rents for Oak Park apartments.
studios = $1,028
1-bedroom = 1,096
2-bedroom = 1,652
3+bedroom = 2,369
We specialize in finding apartments for renters relocating from another area.
Live in Oak Park is the website of the Oak Park Regional Housing Center, a 501(c)(3) non-profit that offers free apartment rental services.
Studio Example Photos
1-Bedroom Example Photos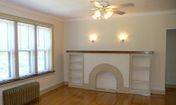 2+ Bedroom Example Photos
Photos by Michael D. Stewart